The 27 companies spearheading 2021 trends in tech
After reading over 15 articles and blogs about the top 2021 trends in tech, we could only come to one conclusion. Other than the obvious big names like Microsoft365, Amazon and GitLab, there actually isn't a lot of information out there about who is innovating in these technology fields. So, a month into what is proving to be a big year for tech, we decided that instead of just repeating the same "trends" blog over and over, we'd search for the top, up and coming companies for each tech trend and give them a well-deserved shoutout! 
We'll talk a little bit about each trend, and then focus on the awesome companies spearheading them. Okay, you caught us, we wrote about this because Future of work is one of the main trends, and yes, we are one of the companies, you Sherlock you! 
Let's get to it.
1. Contactless retail, delivery and shipping
Consumers have spent most of the last 12 months stranded at home during lockdowns. As a result, people are adopting new health and safety measures and overall there has been a 60% increase in preference for contactless operations.
FAST: When it comes to easy, contactless online payments no one is innovating like Fast. Forget about passwords and submitting information hassles. Having raised a recent 102M Series B, it's only a matter of time for Fast to be available as an easy, contactless, one-click payment at your neighbourhood convenience store or preferred gas station. 
PARCEL PENDING: A Quadient company, Parcel Pending is innovating in the package management market. Its state of the art lockers ensure both top security and contactless delivery and pickup for housing, retail, commercial and universities.
NURO: Due to the pandemic, last mile technology is more relevant than ever, and Nuro's self-driving vehicle is at the top of the transportation and autonomous delivery food chain. Pun intended. Plus, they don't  just deliver food but all sorts of packaged goods. Having raised a monster $940M round, you'll be sure to see one of their quirky R2s delivering around your city in no time.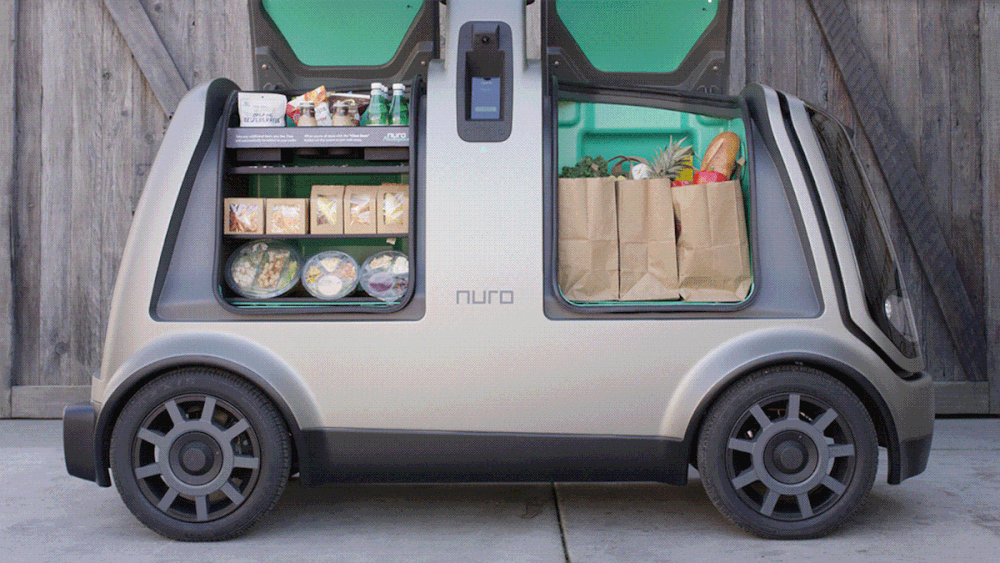 2. Edge Computing
This technology preserves bandwidth and increases efficiency by processing information closer to the users and devices that require it. The time saved from not sending that data for processing in central locations in the cloud, brings a whole new world of possibilities.
VAPOR: Rethinking internet infrastructure is not an easy feat, but needed if we really want to take advantage of what edge computing and 5g has to offer for the cities of the future. With it's signature Kinetic Edge technology, Vapor is renetworking (yes we had to make a word up for what they're doing) metropolitan cities. Now, apps and IoTs of the future will be able to take advantage of low latency performance and FAF (you can figure that one out) data digestion and content delivery. With a whopping 90M Series C, they're planning on building in 36 markets by the end of 2021. 
SIERRA WIRELESS: If your company needs to reimagine a product or process to fit an imminent future of interconnection, these guys will guide you through the full process. Through their technological solutions you will reduce complexity, turn data into intelligence and get your connected products and services to market faster. IoTs in a box.
MUTABLE: With their virtual cloud deployment solution, they turn any underutilized servers into new revenue streams. How? By sharing their low-latency computing with the makers of next-generation AR/VR, IoT, robotics, autonomous vehicles and cloud gaming applications. Like an Airbnb for servers, through their sharing economy model they make the internet faster, safer, closer and greener, while democratizing edge computing.
3. Healthtech
The use of technologies developed for the purpose of improving any and all aspects of the healthcare system. AI & Machine Learning, Big Data, Telehealth, Mental Health and Wearables are among the healthtech areas that surged because of the pandemic.
BABYLON: An AI powered solution to help patients and doctors have faster and more reliable information and make quicker decisions. It also breaks economic, geographic and cultural barriers, so that healthcare can be accessible anywhere in the world. Isn't it crazy that in this day and age we still have to talk about democratizing healthcare?
WYSA: Sometimes you need someone who will listen to you without judgement and just ask you the right questions to get you to feel a little better by the day. Sometimes that someone is an AI chat. WYSA also has a personal therapist at your disposal for daily check-ins and weekly live sessions. 
FREENOME: A routine blood draw for early cancer detection. Freenome's blood tests are powered by their multiomics, breakthrough AI platform. It is designed to detect cancer at its earliest stages to help clinicians optimize the next generation of precision therapies. 
4. Future of work
According to a survey by @CCSInsight, 60% of business leaders in Western Europe and North America expect at least 25% of their workforce, and in some cases all of their staff, to work at least partly from home. Even when the pandemic is over.
DEEL: A payroll onboarding platform for companies hiring a remote workforce around the world. Through deel you can hire new employees, contractors, and service providers with tailored legal documents generated in real-time and approved from a worldwide network of labor law experts, making it really easy for international teams to grow.
TEN SPOT: An all-in-one social engagement platform to help your teams click and to help you measure their engagement and sentiment. Tighten up your company culture and connect your employees, no matter where they're located, through live and on-demand content and activities. Your physical HQ used to have a yoga terrace and a ping pong table, your virtual HQ has Ten Spot.
GROWRK: A great remote work experience can only happen in a great remote workspace. GroWrk is a remote workspace management platform that takes care of all your team's remote working needs anywhere in the world: from ergonomic equipment and laptop inventory management, to services, team retreats, swag, snacks and more. If your remote team needs it to stay happy, healthy and productive, GroWrk has it. 
We're your remote workspace management platform, taking care of all your team's #remotework needs. From equipment and laptop inventory management to services, team retreats, swag, snacks and more. Does your remote team need it? We have it 💻☕️💺🎽🏖️🍕🎈! #WFH
Sound on 🔊 👇 pic.twitter.com/ztXaHLiadN

— GroWrk Remote (@GrowrkRemote) January 5, 2021
5. Edtech
Covid fast-tracked the online education industry. There is a major opportunity in schools, colleges, and even coaching centers with conducting classes remotely. Some institutions have actually been recommended to pursue online practices even after the pandemic.
POWERSCHOOL: A platform that integrates technology across many educational levers. From the back office to the classroom, to the home, Powerschool helps K-12 school systems easily transition and adapt to the needs of our technological society. They are leveling up school districts and unlocking students' potential. 
OPENSESAME: Targeted learning programs to grow your team's skills and find their true potential from anywhere. With over 22,000 courses in over 15 languages, they'll help you find the knowledge path that suits your company and team, and you can easily integrate it to your company Learning Management System (LMS).
VOXY: An innovative digital English solution that has been used successfully by hundreds of organizations and millions of people around the world. With their AI powered platform, learners follow a personalized course of activities and live classes tailored to help them reach their individual goals in one-third of the time of traditional courses.
6. 5g
Infrastructure capable of meeting the power requirements of millions of connections is being implemented all over the world. This grid will also support the data-intensive applications that are expected to revolutionize our lives, from manufacturing and mobility to AR, VR and robotics.
HOMEBASE: One of the only hubless solutions for smart buildings.Their platform is designed for a 5G and IoT capable world, allowing building operators and tenants to manage everything from wide wifi connectivity, to smart access control and other smart building systems on a 24/7/365 managed service. 
UNMANNED LIFE: A global multi-award winning AI for Autonomy SAAS Platform enabling industries. The software allows these companies to be fully autonomous, and deploys Autonomy-as-a-Service for Industry 4.0 over wireless networks including 5G. It reaches across major verticals like Supply Chain Logistics, Telco, Public Safety, Smart Cities and Manufacturing.
BADVR: 5G powered immersive analytics platform that uses virtual reality and machine learning with real-time variable adjusting to see how your data responds, and how your team collaborates. Get the most value and solve the problems that come with data at scale with BadVR. 
7. Fintech
According to @ianjohnlee, decentralized financial applications, services, and businesses will grow in terms of investment, value, usage and adoption to outcompete traditional financial services in the areas of payments, trading, savings, and wealth management.
CHIME: An American technology neobank company with no physical branches which provides fee-free financial services through a mobile app. It's a perfect fit if you're looking for a user-friendly set of tools to get your finances in order. 
ROBINHOOD: Robinhood is a discount brokerage that offers commission-free trading through its website and mobile app. It's a stock and funds, cash management and crypto trading investment tool which supports trading of more than 5,000 stocks, including most ETFs listed on U.S. exchanges, options contracts, cryptocurrencies and ADRs for more than 650 globally-listed companies.
BREX: Brex is a smart bank account for the next generation of business, where companies can manage all of their financial needs in one easy and friendly account backed by a powerful platform engineered to help tech startups grow. 
8. Cleantech
Any process, product, or service that reduces negative environmental impacts through significant energy efficiency improvements and environmental protection activities. The tech trend also includes the sustainable use of resources like circular economy concepts and zero food waste projects.
AEROFARMS: A sustainable indoor agriculture company based in Newark, New Jersey that uses a patented aeroponic growing system to grow produce. Unlike hydroponics, aeroponics utilizes a closed loop system to mist the roots of the greens with nutrients, water, and oxygen. Acting as a barrier between the mist and the plants, the recycled plastic growing cloth allows for a clean, dry and ready to eat product. They recently raised 100M to take indoor vertical farming to a new level of precision and productivity with minimal environmental impact and virtually zero risk.
SWIFTLY: A modern big data platform for cities and transit agencies that analyzes billions of data points collected from across a city's entire transit fleet in real time, allowing cities to pinpoint congestion problems, prevent transit issues, and make transit more efficient, reliable, and environmentally friendly.
LILIUM: The all-electric Lilium Jet takes off and lands vertically, enabling it to deliver connections from city center to city center with direct flights of up to one hour. With no infrastructure required between take-off and landing, connections can be established across any geography, at less than 1% of the cost of a similar high-speed rail link while reducing the environmental impact of traditional flights substantially.
9. Cybersecurity
According to @IIBAC cyberattacks are the fastest growing crime in the US, cybersecurity jobs are growing three times faster than other tech jobs and the need for it is so high that in 2021, $6 trillion will be spent globally on cybersecurity.
DARKTRACE: Their Enterprise Immune System uses proprietary machine learning and AI algorithms to build a pattern for every network, device, and user within an organization. It then employs correlation techniques to classify and cross-reference these models, establishing an accurate understanding of normal activity within that environment. From this evolving understanding of 'normal', it can then detect potential threats as they emerge in real time, and respond through "Antigena" which allows networks to take instant and autonomous action against in-progress cyber-attacks.
SENTINELONE: One cybersecurity platform to rule them all: prevent, detect, respond, and hunt in the context of all enterprise assets. Through their signature algos and tech, they turn all of your devices into a "Sentinel" mapping and enforcing the enterprise IoT footprint to help hunt rogue devices, ensure vulnerability hygiene, and segment devices with dynamic policies.
BALBIX: Using specialized AI, Balbix automatically gathers and analyzes comprehensive inventory and threat information to create a map of your digital assets, enabling a broad set of vulnerability and risk management use cases that help to transform your enterprise security posture, which you can easily trace and supervise in real-time through their user-friendly dashboard. 
As the old technology guard seems to be ready to stand aside for the up and comers, 2021 is looking to be the biggest year for tech yet. Accelerated by the pandemic or not, what we are seeing is a surge in computational power and access to information, while trying to balance the  search for a better distribution and protection of resources. We don't know about you guys, but we're very excited to see the outcome of the hard times we've endured recently, and hope it points to a brighter, more humane and technological future for all.
Want to learn how GroWrk Remote can help you take care of your remote team with ease?